Events
A CONVERSATION WITH FATEMEH SHAMS
SOCIAL HISTORIES OF IRAN: MODERNISM AND MARGINALITY IN THE MIDDLE EAST
You are invited to a Zoom meeting for Stephanie Cronin's book talk.
When: Apr 21, 2021 10:00 AM Eastern Time (US and Canada)
Register in advance for this meeting:
https://upenn.zoom.us/meeting/register/tJEuc–orD0pGNyb3z3JdxVI_wP7D_C3oJ9b
After registering, you will receive a confirmation email containing information about joining the meeting.
WOMEN POETS: GENDERED PERSONHOOD AND DISPLACEMENT
VIRTUAL BOOK LAUNCH: A REVOLUTION IN RHYME
Fatemeh Shams in Conversation with Jocelyn Sharlet and Ahmad Karimi-Hakkak
Monday, Feb 22, 2021 at –
REGISTRATION REQUIRED: CLICK HERE TO REGISTER
Join us for a virtual book launch for A Revolution in Rhyme: Poetic Co-option under the Islamic Republic, written by the University of Pennsylvania's Fatemeh Shams. Dr. Shams will be in conversation with Jocelyn Sharlet of the University of California, Davis and Ahmad Karimi-Hakkak of the University of California, Los Angeles. This event will take place on February 22, 2021 at 2:00 PM US Eastern Time.
A Revolution in Rhyme: Poetic Co-option under the Islamic Republic offers, for the first time, an original, timely examination of the pivotal role poetry plays in policy, power and political legitimacy in modern-day Iran. Through a compelling chronological and thematic framework, Shams presents fresh insights into the emerging lexicon of coercion and unrest in the modern Persian canon. Analysis of the lives and work of ten key poets traces the evolution of the Islamic Republic, from the 1979 Revolution, through to the Iran-Iraq War, the death of a leader and the rise of internal conflicts. Ancient forms jostle against didactic ideologies, exposing the complex relationship between poetry, patronage and literary production in authoritarian regimes, shedding light on a crucial area of discourse that has been hitherto overlooked.
EXISTING IN-BETWEEN: SPATIAL PRECARITY IN LITERATURE AND ART
Thursday, February 11, 2021,

1:30pm

to

4:30pm
"Spatial Precarity in Literature and Art" will reflect on such challenges from architectural, literary and artistic viewpoints with specific reference to the Persianate world. Chair/Discussant: Fatemah Shams, Department of Near Eastern Languages and Civilizations, panelists: Mikhal Dekel, Pamela Karimi, Reza Mohammadi, Abdolmana Bhat, and Illya Mousavijad.

Sponsored by the Weitzman School of Design, the Kelly Writers House, and the Middle East Center
A READING BY AMIR AHMADI ARIAN
Join us for "Then the Fish Swallowed Him," a reading by Iranian novelist Amir Ahmadi Arian, who will be in conversation with Fatemeh Shams.
Amir Ahmadi Arian has published a collection of stories, a nonfiction book, and two novels in Persian. In English, his work has appeared in The New York Times, New York Review of Books, Paris Review, The Guardian. He currently lives in New York where he earned an MFA in the NYU Creative Writing Program as The Axinn Foundation/E.L. Doctorow Fellowship recipient, and teaches literature and creative writing at CUNY City College and Baruch College.
CORONAVIRUS CRISIS: A HISTORIC CONVERSATION BETWEEN IRANIAN AND AMERICAN EXPERTS
Thursday, August 13, 2020
Since the beginning of the global coronavirus pandemic, at least 17 million people have been infected worldwide, and more than 600,000 have lost their lives to the disease. By far the largest public health crisis has taken place in the United States, where some 4.7 million people have been infected and more than 150,000 have died. However, in the early part of the crisis, especially, one of the hardest hit countries was the Islamic Republic of Iran. To date, at least 300,000 Iranians have been infected and at least 16,000 have lost their lives. But media coverage of these events often provides only a partial or inadequate understanding of their complexity.
On August 13, 2020 — for the first time — the Middle East Center and Shiraz University of Medical Sciences brought together the leading experts from both Iran and the United States in a historic dialogue, discussing causes, challenges, successes, future implications, and more.
See the recording of the event below!
CONTEMPORARY IRANIAN FICTION IN TRANSLATION
A panel discussion with Moniro Ravanipour, Mohammad Ghanoonparvar, Fatemeh Shams, Mahyar Entezari
Wednesday, February 19, 2020, 6:00 PM in the Arts Cafe
Co-sponsored by the Kelly Writer's House, the Middle East Center and NELC
Watch a video recording of this event on YouTube
Join us for an evening with internationally acclaimed Iranian-American author Moniro Ravanipour. Ravanipour was born in Jofreh, a village on the coast of the Persian Gulf. Her birthplace has had a substantial impact on her writing career. In addition to children stories, Ravanipour has written many short stories, several novels, and a few screenplays. Her short stories have been translated into many languages. Ravanipour's short stories have been published in PEN America, World Literature Today, and CONSEQUENCE Magazine. She has also had presentations all around the world, in countries such as Germany, France, Italy, Sweden, England, Turkey, Canada, and in more than twenty-two state in the United States. She received fellowships from Brown University and BMI (Black Mountain Institute) at the University of Nevada. Ravanipour was among seventeen activists to face trial in Iran for their participation in the 2000 Berlin Conference, accused of taking part in anti-Iran propaganda. Copies of her current work were recently stripped from bookstore shelves in Iran in a countrywide police action.
Her tales, described as "reminiscent in their fantastic blend of realism, myth, and superstition of writers like Rulfo, Garcia Marquez, even Tutuola," frequently take as their setting the small, remote village in southern Iran where she was born. Nahid Mozaffari, editor of Strange Times, My Dear: The International PEN Anthology of Contemporary Iranian Literature, writes that Ravanipour "has been successful in the treatment of the complex subjects of tradition and modernity, juxtaposing elements of both, and exposing them in all their contradictions without idealizing either."
A READING BY SALAR ABDOH
Tuesday, November 19, 2019, 6:00 PM in the Arts Cafe
Watch a video recording of this program on YouTube
Salar Abdoh is an Iranian novelist and essayist who has authored The Poet Game and Opium. He has also edited and translated the anthology Tehran Noir, and his last book, 2014, was Tehran At Twilight. He lives in Tehran as well as New York City where he teaches Creative Writing in the MFA program at the City College of the City University of New York.
AFGHANISTAN RISING
Thursday, April 18, 2019, 5:30 PM, Fisher-Bennett 231
Join Brown University's Faiz Ahmed for a talk on the lost history of Kabul at the turn of the 20th century.
NOWRUZ FESTIVAL
Saturday, March 30, 2019, 1:00PM – 8:00PM, Penn Museum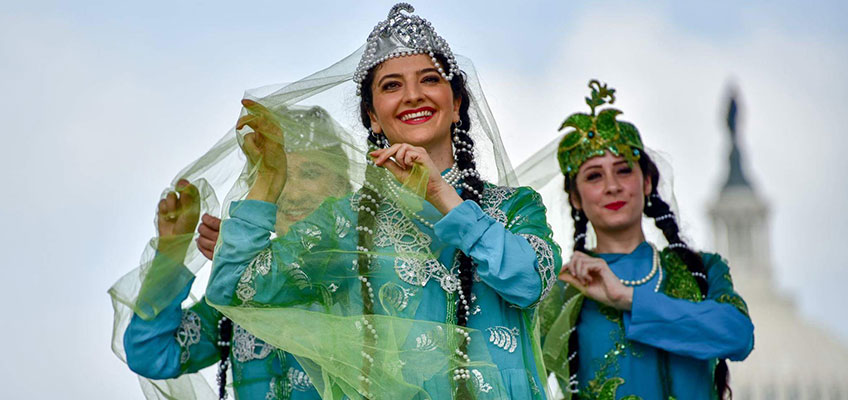 Nowruz, or "new day" in Persian, is an ancient festival marking the beginning of spring. Celebrate the Persian New Year with friends and family, and learn how Nowruz is observed by people in the Middle East, Asia, Africa, and beyond. During the afternoon, enjoy cultural performances, art-making, tours, storytelling, workshops, and a Persian bazaar. When evening falls, the festivities continue with live music, cocktails, and other activities until 8:00 pm. This event is presented in partnership with Shabahang Iranian Cultural Society of America and the Middle East Center. Food and drink will be available for purchase.
Family-friendly activities (1:00 pm – 5:00 pm) are free with Museum admission. Evening festival activities (5:00 pm – 8:00 pm) are $15; members, $10. See the Penn Museum website for more details.